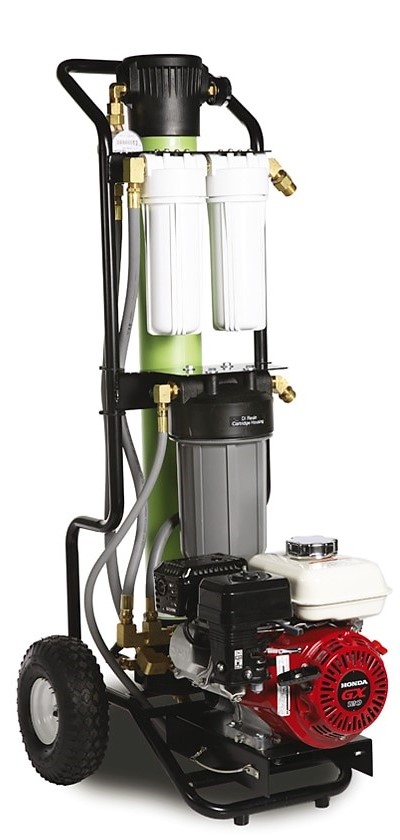 Description
HighPure HPG the engine powered (Honda) model of the range, is based on the latest developments in water purification technology.
HighPure is designed to satisfy two fundamental needs: firstly the need to reach windows at significant heights without having to use ladders or platforms and secondly the need to achieve perfect cleaning without the use of detergents or chemicals.
Windows are perfectly rinsed and remain crystal clear for longer since no chemical or salt residues are left behind. Thanks to reduced water consumption and the elimination of all potentially pollutant chemical products, windows can be cleaned and the environment respected at the same time. Because no detergents are involved, the waste water from the HighPure system can be used to water plants or simply disposed of in public drains.
Features:
The HighPure HPB utilises 4 stage filtration to create the purest water:
1. Sediment filter to remove solid particles larger than 5 microns.
2. Active carbon filter to remove chlorine that would otherwise damage the reverse osmosis filter / membrane.
3. Reverse osmosis (RO) membrane to remove up to 98% of impurities and salts.
4. Deionizing resin cartridge to remove the remaining dissolved solids and producing 100% pure water.
The HighPure HPG runs on a 4HP Honda engine and a high flow rotary vane pump producing up to 7L/min. The Honda GX120 is quiet and will provide unlimited cleaning time.
Technical Data:
| | |
| --- | --- |
| Model: | HPG 4HP Honda |
| Filtration level: | 4 stage |
| Pressure gauge: | YES |
| Flow meter: | YES |
| Flow regulator valve: | YES |
| Pure water output: | 3 – 7L/min |
| Weight: | 49 KG |
| Dimensions: | 53 x 50 x 127 CM |