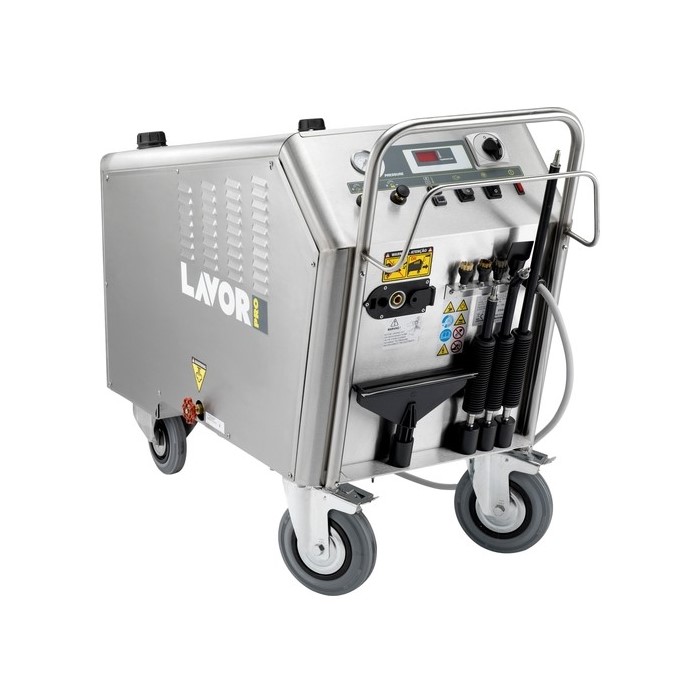 GV is suitable to degrease and sanificate any object or surface in an easy, ecological and fast way.
Description
Is it better a steam generator or a hot water high pressure cleaner?
As far as the choice is concerned, the aspects to be considered are the analysis of the task that must be done and all the elements that make up the cost of the operation, i.e. working speed (labor cost) and (more and more important) waste treatment (waste disposal cost).
As far as the working speed is considered, it is important the whole cleaning procedure and not only the effective washing time: with the high-pressure cleaner it is not possible an indoor washing, unless there is a filled in collection system, instead it is necessary to move the washing phase outside; with the steam generator it is not necessary to move outside, it is possible to wash the part exactly where it is, because the water generated can be easily dried.
Steam at 180°C allow to degrease dirt also without the use of heavy chemical products. If they are necessary to speed up the washing task, it is very important to consider the cost of draining away dirty water.
The danger of chemical products used is generally proportional to the effectiveness against increasing dirt tenacity.
If we wash with the high-pressure cleaner we produce from 10 to 21 litres of polluted water, that must be collected and drained following the current regulation: in a single wash of a couple of hours 2,5 tons of dirty water is produced!
If we wash with a steam generator, the most powerful machine produces 37 litres per hour, with the most part of the liquid that evaporates, with a two hour wash the remaining dampness and disinfecting product is very low!
Analyzing all these subjects it is clear that in particular circumstances (lack of purification plant for water treatment), the steam generator is more advantageous of a high-pressure cleaner.
On the other side, rinsing speed is the consequence to the delivery rate that hits dirt, so if only the washing phase is considered, high-pressure cleaner is faster.
Steam can be considered water with a related dampness very, very low (superheated steam is just hot air and it doesn't have a significant mechanical action…), with an outlet temperature much higher (180°C) than a high-pressure cleaner: this means that the mechanical power is lower than the one of water, but the degreasing power of steam is much higher.
FEATURES
Built-in stainless steel AISI 304. 

Pivoting wheels with brakes, suitable for use in food processing areas. 

The boiler can be refilled from the tank provided (continuous duty). 

Temperature regulator. 

Discharge valve. 

Pressure gauge. 

Device for using chemicals and detergents mixed with steam. 

Heating and activation time required: 6 min. 

Control with low tension controls. 

Control panel: main ON-OFF switch, indicator lamp, thermoregulator, water and warning light (with buzzer), activating key, gun activating key. 

Saturated steam at 10 bar at a temperature of 180° C.
Technical Data
| | |
| --- | --- |
| Max steam pressure | 10 bar |
| Temperature | 180 °C |
| Boiler abs. power | 30 kW/400 V-50 Hz |
| Steam production | 37,5 Kg/h |
| Water tank/detergent tank capacity | 25 / 5 l |